Team Associated SC6.1 & 2 Body Mounts
$20.00
I love my Short Course Truck. If you put a taco on it, it would be the best thing created in human history. What I don't love is the design of the body mounts. While the rear mounts were the real problem child of breakage, the front mounts just felt like they needed to match in looks and raw strength. A tiny bit of material where the screw goes in, a little extra force from the side, and pop goes the weasel.
One man, we'll call him Erik (because that is his name), is a freakin' genius. He suggested flipping the screw to go through the bottom. The Ride Low body mounts do just that. You're far more likely to break the whole mount before you snap the screw and the thick support barrel. And you even get a fancy new screw-on caps for the top to keep it snug. The new caps have an easier grip (and frankly look cooler).
Body clips are soooooooooo 2018.
Comes as a full set of barrels, stems, caps, washers, and hardware. You pick your height to match your body. The standard for most bodies are 12mm fronts and 24 for the rear.
Available heights for the fronts: 8mm | 10mm | 12mm
Available heights for the rears: 15mm | 20mm | 24mm
SERIOUSLY, MEASURE THE HEIGHT CLEARANCE YOU NEED. NO ONE WANTS TO BE THE GUY THAT CATCHES THE BODY ON THE WHEELS AT EVERY JUMP AND TURN. CONVERSELY, DON'T LOOK LIKE YOU'RE DRIVING A MONSTER TRUCK.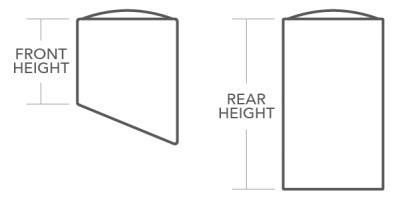 Don't get clipped. Get screwed.
Sometimes you need extras of things. Don't worry, we'll get you screwed up.